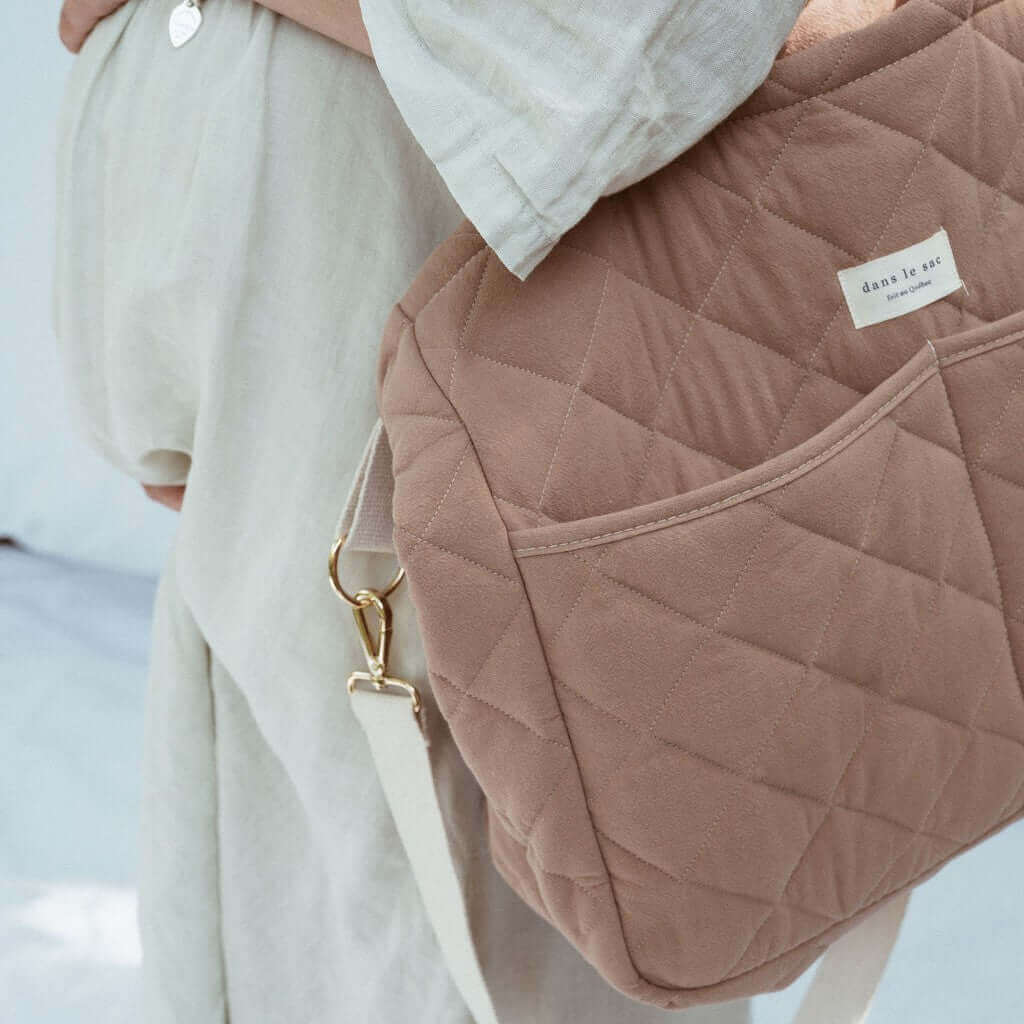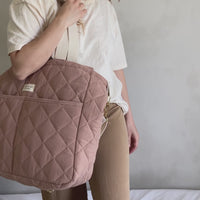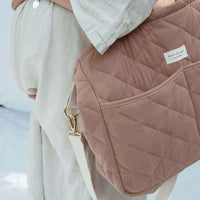 Back in fall 2023
Here is THE bag to carry everything you need for you and your minis.
Spacious and solid, it is essential for your travels.
Perfect for mums and dads but also for anyone who needs a practical everyday bag.
Adjustable and removable shoulder strap
Double handle
Very large main compartment that can be closed with a zipper
2 outside pockets for quick access to your essentials
2 elastic pockets inside, without closure
Wonderfully made in Quebec
Clean stains with a damp cloth and mild stain remover soap.
Exterior: 100% cotton
Padding: Polyester

Dimensions: 16.5'' width x 14'' height x 5.5'' depth
Take a look at these other essentials
Quel beau sac, création québécoise
Quel beau sac, création québécoise en plus ! Parfait pour trimballer les choses de deux enfants !
She's Gorgeous!!
So happy a friend sent me this ad as she knows I have a love for the colour Sage. The Mint colour is perfect (more sagey) and I cannot wait to use this for a diaper bag! Great quality!!
J'adore
Assez grand pour tout! Pratique et de bonne qualité! Il est confortable à porter. J'espère qu'il résistera très longtemps.
Déception
La couleur n'est pas la même que sur l'image! Il est vraiment plus rose que beige et lorsqu'on leur demande un échange on recoit comme réponse qu'il ne font pas d'échange! Une grande déception sur cette compagnie , première et dernière fois !
Bonjour Mathieu,
Je suis désolée que vous soyez déçu de la couleur de votre sac. Nous essayons de prendre plusieurs photos/vidéos sans filtre afin de présenter la couleur puisque celle-ci varie en fonction de la lumière. Tel que mentionné dans notre politique de retour, nous n'acceptons habituellement pas les retours (outre que pour les produits défectueux), mais si vous désirez échanger votre sac, nous pourrons procéder à l'échange si vous nous renvoyer celui-ci dans sa condition d'achat, à vos frais.
Vous pouvez m'écrire au laurie@danslesac.co pour procéder à l'échange.
Merci
Je l'adore! Il fera un
Je l'adore! Il fera un beau sac fourre-tout après la période de couches
Our commitments
All of our products are handmade in Quebec to be part of a sustainable and ecological way of life.
Learn more